For over 150 years, the San Francisco SPCA has provided care and protection for animals in need. Our new vision is about creating a community where pets can live their best lives. Vision 2030 builds on the organization's groundbreaking work to end animal abandonment in San Francisco.
Homeless animals represent only 4% of the nation's cats and dogs. For many years, shelters were mainly about increasing the percentage of positive outcomes for the animals that came to us to be rehomed. As we celebrate our successes for these animals, we look around and ask, "Where else we can continue to have a positive impact?" Not just does that animal have a home, but also access to care and best welfare. How can we improve the quality of life for cats and dogs—and the people who love them?

Collaborating with colleagues, experts, and volunteers at other shelters so that all communities can improve the outcomes for their animals
Pursuing legislative changes for the benefit of animals and their communities


Making more preventative services available to more people and in more ways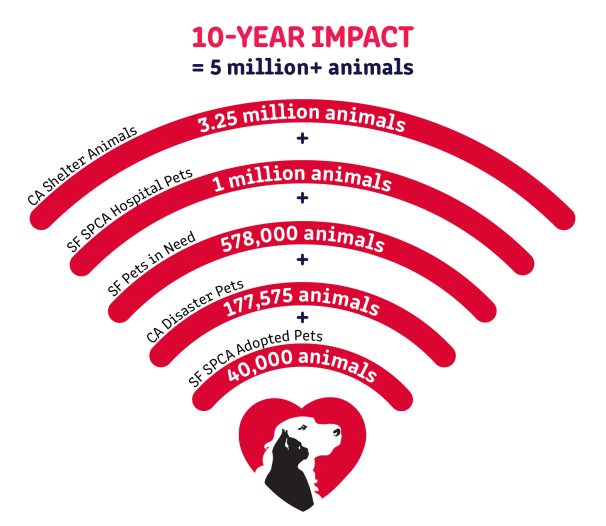 The impact will be great, and so will the effort. We will need your support and your voice to make it a reality.
Through Vision 2030, the San Francisco SPCA pledges to expand its reach to five million cats and dogs within the next decade in order to improve quality of life for all companion animals, not just those in shelters. The new vision builds on the organization's groundbreaking work to end animal abandonment in San Francisco. Our next step is to make humane care accessible for all. There are three components to Vision 2030:
Access to Veterinary Care: Removing financial and other societal barriers to help more animals. Money should never prevent someone from getting humane veterinary care for their companion animal. We want to make that a reality.
Shelter Leadership: Partnering with shelters and rescues throughout California to implement practical evidence-based practices that lead to better welfare in the shelters and better outcomes.
Advocacy: Making sure that companion animals are protected through public policy initiatives and compassionate laws.
Our mission remains the same. It is to save and protect animals, provide care and treatment, advocate for their welfare and enhance the human-animal bond.
Absolutely. The San Francisco SPCA will continue to shelter homeless animals and have an adoption center. There will always be a need to care for San Francisco's homeless animals and that will always be a core part of our mission. We will continue to take all of the adoptable companion pets that the Animal Care and Control offers.
Yes, SF Animal Care and Control remains one of our most important partners. In addition, we are focusing on serving San Francisco's animal guardians by providing access to veterinary care to everyone, regardless of income, by 2030.
In order to support the new vision, we will be:
Reworking our veterinary care financial assistance program to be more effective, efficient and sustainable.
Planning a low-cost walk-in vaccine clinic in the near future.
Building our advocacy program to be more strategic, and leveraging significant pro and low bono legal support from outside allies.
Growing our coalition of shelter partners throughout California.
Scaling back some programs and winding down a select few of our ancillary programs in order to focus greater resources on the new vision.
While the new strategy will take time to implement, the formation of our revised operations will take place toward in mid-July 2019.
| The mission of the SF SCA is to: | Access to Veterinary Care | Shelter Leadership | Advocacy |
| --- | --- | --- | --- |
| Save and protect animals | | | |
| Provide care and treatment | | | |
| Advocate for their welfare | | | |
| Enhance the human-animal bond | | | |